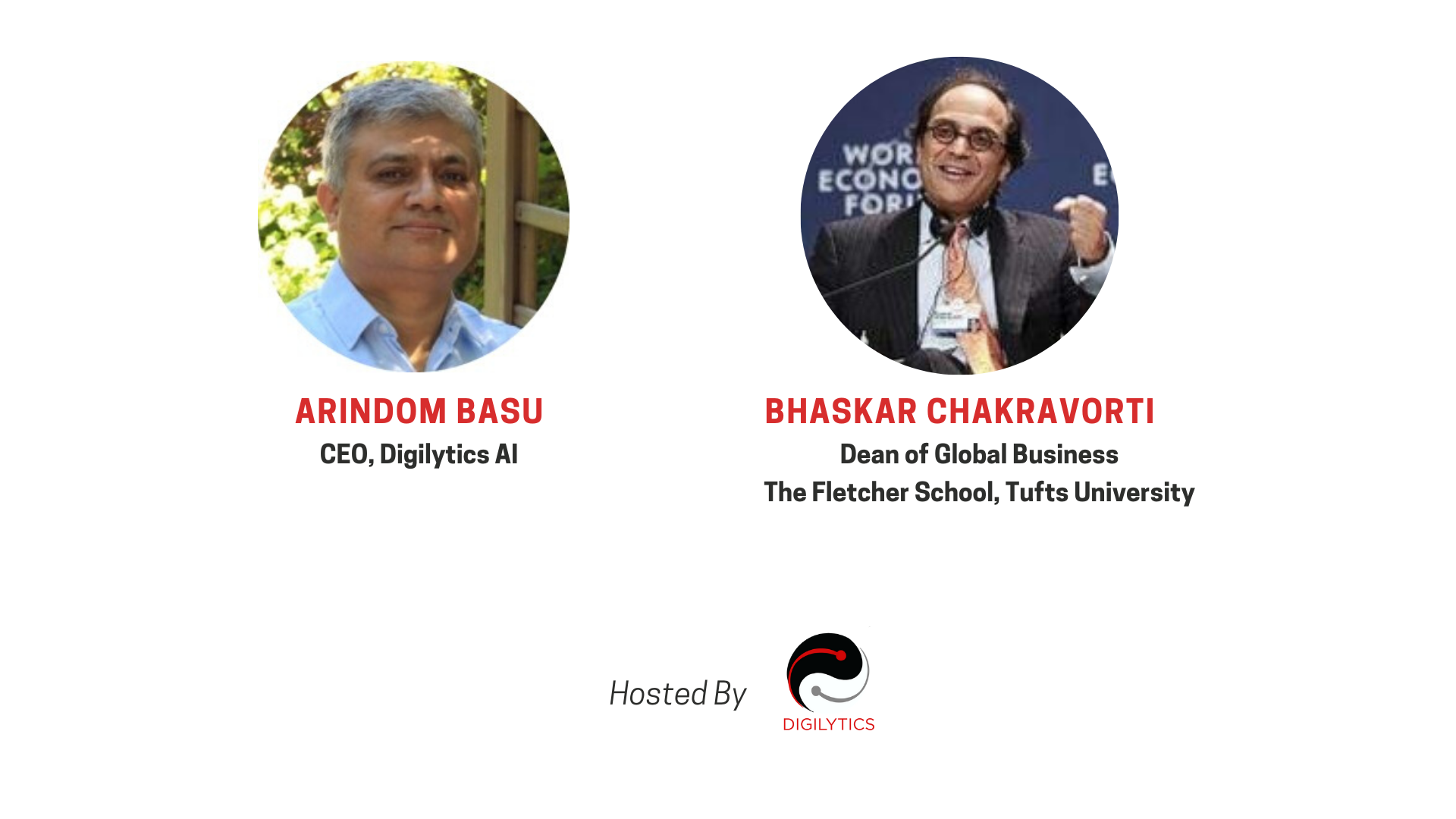 What will the world look like after the COVID Era? Experts say the rise of "Intelligent Digital" is the new normal. Add that to your vocabulary. Watch the on-demand webinar to know more.

About the Panelists
Arindom Basu, CEO Digilytics AI
CEO and Founder at Digilytics AI. Experienced technology disruptor with a demonstrated history of working in the financial services and consumer industry sectors. Entrepreneur with a degree in computer sciences and management, Arindom has spent almost 30 years witnessing technology evolution through crisis times.
Bhaskar Chakravorti, Dean of Global Business, The Fletcher School, Tufts Univ, former McKinsey partner & Harvard Business School faculty
Bhaskar Chakravorti is the Dean of Global Business at The Fletcher School at Tufts University and the founding Executive Director of Fletcher's Institute for Business in the Global Context and chairs the Council on Emerging Market Enterprises. He also served on the Global Future Council on Innovation for the World Economic Forum and is Senior Fellow (non-resident) at the Brookings Institution India, Senior Advisor for Digital Inclusion at the Mastercard Center for Inclusive Growth and on the Advisory Board of the UNDP's Center for Private Sector in Development. Prior to Fletcher, Bhaskar was a Partner at McKinsey, a Distinguished Scholar at MIT's Legatum Center and on the faculty of Harvard Business School. He was a leader of McKinsey's Innovation and Global Forces practices, served on its Knowledge Services Committee and taught innovation and entrepreneurship at Harvard.
In a 20+ year career, he has been an advisor to CEOs, senior management and Boards of over 30 companies in the Fortune 500 and worked across the Americas, EU, Asia and Africa, and multiple industries. He is the author of the Amazon best-selling book, "The Slow Pace of Fast Change" (Harvard Business Press) and is the creator of the widely-used Digital Evolution Index. His writings appear in top-tier academic journals, multiple books and in widely-read media, e.g., Harvard Business Review, NYT, WSJ, FT, Washington Post, CNN, Foreign Affairs, Newsweek, Businessweek, etc. He was a former columnist on innovation for the Washington Post and currently has regular columns in Forbes, Harvard Business Review and the Indian Express; he is regularly interviewed by the media, eg NYT, WSJ, FT, NPR, The Economist, New Yorker, CNBC. Bhaskar's prior appointments were as a Partner at the Monitor Group, a game theorist at Bellcore (formerly Bell Labs), assistant professor at the University of Illinois at Urbana-Champaign and TAS (India's Tata Group's "talent pipeline for leaders").
Attendees can look forward to :
The future of simple, faster and cheaper loan origination
Role of Intelligent Digital in the mortagage and lending industry
Recovery Strategies post COVID crisis
See you there!